Home
Introduction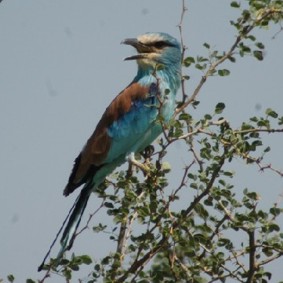 Gash Barka is one of the six provinces of Eritrea, named after the two main rivers that flow through the province. It extends across a large area, encompassing one main habitat type/biome - the Sudan Guinea Savannah Biome. Due to its vicinity to the western escarpment of the highlands there is more water in some areas than is usually associated with this biome. During the rainy season (July to September) it reaches the surface on the riverbeds, but even during the extensive dry season, the water table is high along the major river valleys, enabling trees to flourish all year round. This naturally attracts a high density of birds, and a good diversity of species, especially in the Akurdet and Mereb areas. Away from the river valleys, acacia woodland dominates, although in some parts of the province this has been degraded into semi-desert due to overgrazing by livestock. The best time to visit Gash Barka is just after the rainy season, from July to September, when most plants are flowering, and intra-African migration patterns bring a profusion of birds to the area.
Getting there
To get to Gash Barka from Asmara takes a good day's travelling. By car it will take you 4-5 hours to get from Asmara to Akurdet via Keren. By bus, it will be about 7 hours. Barentu is another 1 hours' drive from Akurdet. The road is fairly good; tarmac all the way to Barentu, although potholes increase the further west you go. There is an alternative road from Mendefera to Barentu further south, but it is not possible to use this road for security reasons. You should take plenty of fuel with you as it is not always available in Akurdet or Barentu. For details about how and where to catch buses in Asmara, check the Travel and Accommodation page.
Accommodation
Hotels in this part of the country are basic. There are often several beds in a room, and for most of the year the beds are outside, as it is very hot at night. All beds come with mosquito nets, but you should check that these do not have holes in them. Electricity is intermittent, although Barentu and Akurdet have several hours in the evening and two in the morning. Food is simple and traditional. Telephone lines are only present in Akurdet and Barentu, not in smaller towns.
Hagaz - The Aman Hotel is fine, with separate rooms, one or two with fans. Shared bathroom, no plug sockets in rooms. The hotel has good food and serves as the main stopping point for the minibuses travelling from Barentu to Asmara. Prices are about 30Nfa a night. If you come into town from Keren, the hotel will be at the far end of the town. You will pass the bus station on your right, and then the Aman will be just before the Agrotechnical School (easy to spot the green grapevines and orange groves) on the left.
Akurdet - The Beilul is fine, with separate rooms. Prices are 50-100 Nfa a night. Telephone: 711228
Barentu - The Merhaba is the best hotel in town, again with separate rooms. Prices are around 100Nfa a night. Telephone: 731101
Habitat Types
Acacia savannah. Riparian woodland. Irrigated banana and mango plantations (near Akurdet). Semi desert scrub.
---
Where to Watch Birds in Gash Barka
Hagaz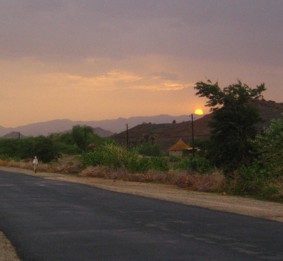 Hagaz is in fact in Anseba Province, although I've included it in this page, as it is within the same ecosystem as much of Gash Barka, and is the easiest place to get to to find the species associated with this ecosystem. As with all locations listed below, a travel permit is necessary, and it is usually easy to get a permit for Hagaz. The town itself is small and stretches along the main road. It is sandwiched between two rivers, which are dry on the surface for most of the year. It is the centre of Eritrea's small wine growing industry and the irrigated vineyards attract a concentration of bird species. The Agrotechnical School is probably the best vinyard, and can usually be visited without a prior appointment; just go in and ask the manager if you can birdwatch. Behind the Agrotechnical School is the main riverbed. If you follow this river downstream, you will find a lot of lowland species amongst the trees. Following the river upstream is also a good idea, as there are some agricultural lands with large trees around on the southern edge of the town. It is also worthwhile exploring the smaller valleys that meander up into the foothills around the town, as these can often harbour quite dense vegetation and can turn up very different species to the flat open floodplains, especially warblers such as Cricket, Olivaceous and Red-fronted Warbler.
Birds:
African Sacred Ibis, Abdim's Stork, Black-shouldered Kite, Yellow-billed Kite, Dark Chanting Goshawk, Lanner Falcon, Helmeted Guineafowl, Black-headed Lapwing, Speckled Pigeon, African Mourning Dove, African Collared Dove, Laughing Dove, Blue-spotted Wood Dove, Namaqua Dove, Ring-necked Parakeet, White-browed Coucal, African Palm Swift, Little Swift, Nyanza Swift, Blue-naped Mousebird, Speckled Mousebird, Grey-headed Kingfisher, Abyssinian Roller, White-throated Bee-eater, Little Green Bee-eater, Yellow-breasted Barbet, Common Bulbul, Crested Lark, Chestnut-backed Sparrow Lark, Black-crowned Sparrow Lark, Ethiopian Swallow, Black Scrub Robin, Rufous-tailed Scrub Robin, Olivaceous Warbler, Cricket Warbler, Red-fronted Warbler, Yellow-bellied Eremomela, Northern Crombec, Greater Blue-eared Starling, Yellow-billed Oxpecker, Beautiful Sunbird, Nile Valley Sunbird, Shining Sunbird, House Sparrow, Northern Grey-headed Sparrow, Sudan Golden Sparrow, Bush Petronia, Cut-throat Finch, Speckle-fronted Weaver, Ruppell's Weaver, Little Weaver, Red-billed Quelea, Northern Red Bishop, Red-billed Firefinch, Red-cheeked Cordonbleu, Village Indigobird, Pin-tailed Whydah, White-rumped Seedeater, Golden-breasted Bunting
Akurdet (sometimes spelt Agordat)
Akurdet is located next to the Barka River at 600m above sea level, and is a significant agricultural centre, producing bananas, mangos and other fruit and vegetables. Although the river is dry for most of the year, there are lots of trees along the banks, and on the far side of the river there are several plantations, such as the Akurdet Agricultural Station, which usually attract a good variety of bird species. From the town, the best areas to explore are all downstream towards the north-west. It's also a good idea to climb one of the hills near the town, both to look for species that prefer more arid environments to the river valley vegetation near the town, and to get good views of the raptors that often climb on the thermals around these hills.
Birds:
Black Kite, Common Buzzard, Verreaux's Eagle, Long-crested Eagle, Arabian Bustard, Black-headed Lapwing, Black-billed Wood Dove, Namaqua Dove, Ring-necked Parakeet, Little Swift, Speckled Mousebird, Blue-breasted Bee-eater, Eurasian Hoopoe, Northern Red-billed Hornbill, African Grey Hornbill, Yellow-breasted Barbet, Lesser Honeyguide, Black Scrub-Robin, White-headed Babbler, Nile Valley Sunbird, Common Fiscal, Black-headed Gonolek, Brown-necked Raven, Greater Blue-eared Starling, Ruppell's Starling, Chestnut-bellied Starling, Yellow-billed Oxpecker, Northern Grey-headed Sparrow, Swainson's Sparrow, Sudan Golden Sparrow, White-billed Buffalo-Weaver, Little Weaver, Red-cheeked Cordon Bleu, Red-billed Firefinch, Cut-throat Finch, White-rumped Seedeater
Mogolo
Mogolo is the centre of the 'Nara' ethnic group, one of the smallest ethnic groups in Eritrea. The town is located to the right of the main road if you are travelling from Akurdet to Barentu, about 30km from Akurdet. There are some good tracts of acacia savannah here that can be explored on the way to Barentu.
Barentu
Barentu is the capital of Gash Barka, and is located on a plateau at about 980m above sea level. It is the centre of the Kunama ethnic group. You cross the main river just as you are coming into the town, and this is the most productive area to explore, both upstream and downstream, although the river is dry for most of the year. The best tract of acacia woodland is on your right just after the checkpoint as you are entering the town from Akurdet. Pass through an old gate on the right and follow a dry road which cuts across the riverbed and explore up to two small hills in front of you, which give good views of the habitat and area. Acacia savannah can be found all around the town, although it is a good idea to check with the town administration and leave the town only with a local guide, as there is a large military presence in and around Barentu.
Birds in Mogolo and Barentu:
Abdim's Stork, Sacred Ibis, Cattle Egret, Grey Heron, Black-headed Heron, Black Kite, Tawny Eagle, Helmeted Guineafowl, Black-headed Lapwing, Chestnut-bellied Sandgrouse, Four-banded Sandgrouse, Speckled Pigeon, Rock Dove/Feral Pigeon, Namaqua Dove, African Collared Dove, African Mourning Dove, Laughing Dove, Meyer's Parrot, Rose-ringed Parakeet, Jacobin Cuckoo, White-browed Coucal, Speckled Mousebird, Blue-naped Mousebird, Eurasian Hoopoe, Black-billed Wood Hoopoe, Abyssinian Roller, European Roller, Grey-headed Kingfisher, Pygmy Kingfisher, Northern Red Hornbill, African Grey Hornbill, Yellow-breasted Barbet, Nubian Woodpecker, Fork-tailed Drongo, Lesser Honeyguide, Chestnut-backed Sparrow Lark, Ethiopian Swallow, Black Saw-wing, Rufous Scrub-Robin, Black Scrub-Robin, White-headed Babbler, Northern Wheatear, Orphean Warbler, Scarlet-chested Sunbird, Shining Sunbird, Variable Sunbird, Southern Grey Shrike, Brown-necked Raven, Pied Crow, Cape Crow, Lesser Blue-eared Starling, Chestnut-bellied Starling, House Sparrow, African Silverbill