Stintino is a small town in the far north-west of Sardinia, known for a famous beach (La Pelosa) and also for its proximity to the island of Asinara, a very good nature reserve, now uninhabited, and with very good but limited birdwatching, as visitors are not allowed to roam free over the island.

A few kilometers south of Stintino there are several stagni (brackish lagoons) that are excellent for birdwatching, as well as some good coastal macchia scrub and a small area of seasonal marsh. Stintino's specialities include Flamingo, Spoonbill, Slender-billed Gull, Black-winged Stilt, Little Tern and Kentish Plover.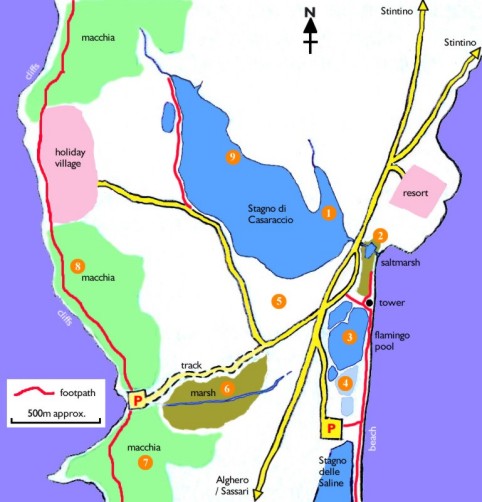 Getting to Stintino
If you're travelling by car, follow the main road and the signposts to Stintino. About 4 kilometres before the town, you'll see the Stagno di Casaraccio on the left, and you can pull into the lay-by and park there. You can also turn right onto the sideroad by the saltmarsh and park near to footpath that leads to the tower.
If you're travelling by bus, as I usually do, there are buses from Sassari's central bus station, where you can also buy tickets and get a timetable. All these buses stop at Porto Torres central bus station. The buses are blue coaches and there are stops along the way, although they can be difficult to find. There is one just past the stagni near the resort. You can also catch the bus back to Sassari from here if you want to avoid the walk back to Stintino. There are only several buses a day, fewer on Sundays.
If you are staying in Stintino, you could easily walk along the Panoramic Route from the town along the coast to the stagni. It's about 4 kilometres and there is plenty of macchia and open fields along the way.

Flamingo Pool at Stintino
Isola di Asinara
During the summer months there are regular boat trips every day from Stintino to the island of Asinara. Call the tourist information office for details: 079 520097. Boats depart 09:30 or 10:00am and return 5:00pm. On the island they encourage you to take the guided tour, but you can alternatively have a wander. If you travel left along the sea front from the village where the boat docks you will come to two stagni (lagoons) which have been recently equipped with hides. The colony of Audouin's gulls isn't on Asinara itself, but on a small island to the south. As you walk along the southern shore of Asinara, as described above, keep checking the Yellow-legged Gulls and you should see plenty of Audouin's Gulls. These birds are often also visible from the famous beach 'La Pelosa', north of Stintino, although be careful where you point your binoculars! Due to its location, Asinara is very good for passerine migrants, and sometimes raptors, especially in the autumn.
As well as the birds and the white donkeys for which the island is famous, Asinara has impressive numbers of 2 other wild mammals native to Sardinia. It is possibly the best place in Europe to observe wild boars, which have lost their fear of people since the island became a nature reserve. If you spend some time exploring the rocky crags of the island, you should also see mouflon, another large Sardinian native species (a kind of mountain sheep), which were reintroduced here in the late 70s and are also doing well.
Spring and Autumn: There are lots of passage migrants that pass through the area in spring and autumn, with spring generally being more productive due to the higher water levels and lower salinity. Waders include Little Stint, Curlew Sandpiper, Wood Sandpiper, Spotted Redshank, Greenshank, Redshank, Ruff, Avocet, Black-winged Stilt, Dunlin, Ringed and Little Ringed Plover. Audouin's Gull is more commonly seen at these times. Lesser Black-backed Gull is a frequent passage migrant, as is Shelduck (both rare in the region). Other migrants include Great Egret, Spoonbill, Glossy Ibis, Sandwich Tern and Common Tern, Wheatear and Whinchat. Osprey, Hen Harrier, Red-footed Falcon and Black Kite are the most likely, but uncommon, migrating raptors.

Resident species: Blue Rock Thrush (west coast), Calandra Lark, Woodlark, Stone-curlew, Zitting Cisticola (Fan-tailed Warbler), Dartford Warbler, Barbary Partridge, Marsh Harrier, Peregrine Falcon, Kentish Plover, Cirl Bunting, Stonechat and Shag. Although Audouin's Gull is possible all year round (there is a colony on nearby Asinara) they are more frequently seen in early summer and autumn, esp. on the west coast.

Wintering species include Flamingo, Grey Plover (uncommon for Sardinia), Golden Plover, Curlew, Spotted Redshank, Green Sandpiper, Common Sandpiper, Greenshank, Great Egret, Black Redstart, Pintail, Snipe and Merlin.

Summer visitors include Black-winged Stilt, Tawny Pipit, Bee-eater, Short-toed Lark, Hoopoe, Common Tern, Little Tern, Woodchat Shrike, Nightjar and Nightingale.

On this page is a rough map of the best areas, with notes on different species that can be seen at each site. Click on the map for a larger version. It will open in a different window. I have made notes on species to be found at the numbered locations.

1) On this branch of the stagno, there are sometimes Flamingos and Great Egret especially in the winter. Look out for Spoonbill, Grey Heron and Little Egret here too. Access is limited but you can see the birds from the lay-by on the right of the main road.

2) The saltmarsh is good for Black-winged Stilt and Zitting Cisticola. In the winter Green Sandpiper, Greenshank and Redshank are all possible. On the tidal marsh, just to the south of the saltmarsh, Tawny Pipit is common in the summer, as is Stonechat. Corn Buntings are all around, and Medow Pipits are numerous in winter.

3) This pool sometimes has Flamingos any time from October to May. During the summer the beach (Le Saline) gets busy and the birds tend to retire to the Stagno di Casaraccio or Stagno di Pilo further south. Also, some of the adults migrate south to the stagni near Cagliari to breed. Black-winged Stilt, Slender-billed Gull, Little Tern, (all 3 summer) Kentish Plover and passage migrants are all common here, along with Grey Plover, Greenshank, Spotted Redshank and Common Sandpiper in the winter. Shelduck is frequent. During August and September this pool gets too saline for even the flamingos and the waders and is pretty lifeless.

4) There are several temporary pools just south of the Flamingo Pool, which also have a lot of passage migrants, including Curlew Sandpiper and Little Stint. Kentish, Ringed and Little Ringed Plover are all possible here. Nightingale, Serin, Linnet and other finches are common on/in the bushes near the car park. The Stagno delle Saline is generally less productive, but there are two good pools further south (Tawny Pipit) and plenty of uncultivated fields, good for Short-toed Lark, Calandra Lark and Bee-eater.

5) On this field next to the stagno, Calandra Lark and Short-toed Lark can be seen, easier in the spring, when they are displaying. Corn Bunting are very common and Bee-eater are regular.

6) This small area of marsh has lots of Zitting Cisticolas and Marsh Harriers. No phragmites reeds though, so no Acrocephalus warblers, except occasionals in migration.

7) and 8) The coastal macchia is good here. On the higher cliffs (8) and further south of 7) Blue Rock Thrush is common. Also, despite the lack of trees, Woodlark are common in the summer. Woodchat Shrike, Nightjar and Turtle Dove (summer), Stonechat, Black Redstart (winter), Cirl Bunting, and Sardinian Warbler (ubiquitous) are also here. Wheatear and Whinchat are common in passage. Keep an eye out for Hen Harrier (spring and autumn) and for the beautiful Sardinian Hare here too. Shag can be seen on the sea. Magpie, which are generally rare in Sardinia, can be seen here. On some of the mature macchia Dartford Warbler and Barbary Partridge are possible. Stone Curlew are found on the grazing fields just west of the Stagno di Casaraccio.

9) On this part of the stagno, there are a few ducks, including Pintail in the winter and Great Crested Grebe. There is an island in the middle of the stagno here, where Common Tern breed, and where Flamingos can be seen during the summer. The west end of the stagno is productive for passage migrants in September, when water levels are too low and salinity too high on other stagni.