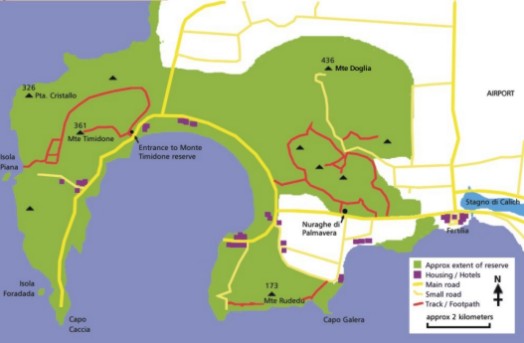 Capo Caccia
Capo Caccia is located at the far south west end of the peninsula and is a little too touristy to be good for birdwatching. 2 notable species that can be seen here are Crag Martin and Alpine Swift. Cormorant and Yellow-legged Gull are numerous. Shag, Black Redstart (winter) and Blue Rock Thrush are frequent. Passage migrants turn up here as well.
Monte Timidone and Punta Cristallo (sometimes called La Prigionette)
This is the most carefully protected part of the reserve. The entrance is on the right if you are coming from Alghero or Sassari, just past the fields amongst the first few trees. There is an office of the Corpo Forestale here where all visitors need to leave an ID document. Passport or driving licence are acceptable. I'm not sure if it's one per vehicle or one per person. You can get maps and information documents in Italian. Opening times are from 10am to 5pm (last entrance at 4pm). Once inside, the road winds up round Monte Timidone into the valley between here and Punta Cristallo. Check the last field to the right just before entering the valley. Here you can often see or hear Barbary Partridge. Once into the forest there are tracts of Stone Pine plantation (not too dense - some undergrowth) interspersed with more natural mixed forest, predominantly Holm Oak. Nearer the coast there is a good variety of macchia scrub, both high and low. As well as the birds there are plenty of wild horses, a few 'Asinara' feral donkeys (white) and lots of wild boar, which are less fearful of people and often feed by day. Birds include: Sardinian Warbler, Dartford Warbler (in the thicker macchia, esp. Juniper), Marmora's Warbler (usually in low macchia, under 50cm in height, usually above 200m altitude), Alpine Swift, (suspected) Pallid Swift, Crag Martin, Barbary Partridge, Woodlark, Turtle Dove (summer), Marsh Harrier, Peregrine Falcon (they breed on the coastal cliffs in very high densities - 4 pairs in 5km of coastline), Raven, Shag (around Isola Piana), Linnet, Blue Rock Thrush, and a few Griffon Vulture above the cliffs of Punta Cristallo. Passage migrants are frequent here, including raptors such as Black Kite and Marsh Harrier. I've also had Jack Snipe (!) flushed in late April.
Monte Doglia
Monte Doglia (sometimes spelt Monte Dolla) and the 3 or 4 peaks nearby are covered with a combination of macchia scrub and forest (both stone pine plantations and mixed). Fewer people visit this area, and so in summer, it can be more enjoyable to go birdwatching at Monte Doglia than at Monte Timidone. There are several easy-to-follow tracks and plenty of firebreaks within the forest that you can follow. The range of birds that can be seen is similar to Monte Timidone, with fewer of the coastal species. I have recorded: Black Redstart (winter), Linnet, Chiff Chaff (winter), Goldcrest and Firecrest, Buzzard, Kestrel, Sparrowhawk and Griffon Vulture (once), Barbary Partridge, Woodlark, Cirl Bunting, Raven, Spotted Flycatcher, Sardinian and Dartford Warblers. In summer there are also Alpine Swift, Bee-eater and Turtle Dove. The south facing coast just west of Fertilia (Capo Galera) can also be useful for both passage migrants and seabirds. I've seen Peregrine Falcon, Audouin's Gull and Sandwich Tern (winter only) here. Roller have been seen here in the spring recently, possibly migrants passing through to Europe.
General Information
This is a large area, clearly marked on most maps as a nature reserve, officially called the 'Foresta Demaniale Porto Conte'. I haven't fully explored it yet, as I don't have a car, but the places I've visited have proved very good for birdwatching. Capo Caccia is the best-known location here, famous for its caves (esp. Grotto di Nettuno) which can be visited most easily in the summer from Alghero by taking a boat excursion. The area is also still famous for Griffon Vultures, one of the few birds that most of the locals know about, although, unfortunately, Griffons do not breed here nowadays. 4 Griffon Vultures remained resident as of 2007. They haven't bred here since 2002 or 2003. I have only seen 2 Griffon Vultures here; one soaring in the late afternoon thermals above Punta Cristallo, and another over Monte Doglia. The last stronghold for the Griffons is a mountainous area further south between Alghero and Bosa. [Click here for more information] Nonetheless, the whole reserve has large expanses of macchia scrub, stone pine plantations and holm oak forest. Parts of it are built up, but there are plenty of footpaths and dust tracks crossing the protected areas.
Getting to Porto Conte
This area is just north west of Alghero, and very close to the Alghero (sometimes called Fertilia) Airport. From Alghero, just follow the coastal road north to Fertilia, and explore the area by car. There are plenty of places to park. From Sassari or from the motorway to Cagliari, take road 291 (just north of Sassari, signposted Airport). Continue past the turn off to the airport, and straight on past Santa Maria La Palma (brown signposts will start to indicate 'Grotta di Nettuna' or 'Capo Caccia'). Follow the main road south to Porto Conte.
If you don't have a car, it's more difficult to get there. Through the summer, there are a few buses a day from Alghero to Capo Caccia (I'd advise getting off at the entrance to the Monte Timidone reserve). There is also the summer boat to the Grotta di Nettuna, but this only gets you to Capo Caccia, not the best place due to the number of tourists and facilities. All year round there are regular buses from Alghero to Sassari. Make sure you get the bus that goes via Fertilia. Get off at Fertilia and walk west for about 2km to the Monte Doglia reserve. Another idea is to hire a bicycle in Alghero and ride there. There are several hire companies along the beach front north of the town.

Porto Conte and Capo Caccia from Monte Doglia