The Lago di Baratz is Sardinia's only natural freshwater lake, and as such has been well-preserved as a nature reserve. As well as the birds, you can see freshwater terrapin, Hermann's tortoise and a few Sardinian hare are about as well. There are lots of footpaths, generally well-maintained, around the lake and leading down to the beach, as well as two hides (although they are positioned rather far back from the lake), a visitor centre and numerous picnic areas.

There is a good variety of vegetation cover around the lake, although the vast majority of the forest is a densely planted stone pine plantation; not very productive, although good for Firecrest, and plenty of macchia scrub closer towards the coast. The lake itself has small amounts of phragmites reeds, and plenty of leccio (holm oak) wood around it.

On this page there is a map (click on it for a larger version which opens in a new window) and a summary of some of the most interesting species that can be seen at different times of the year.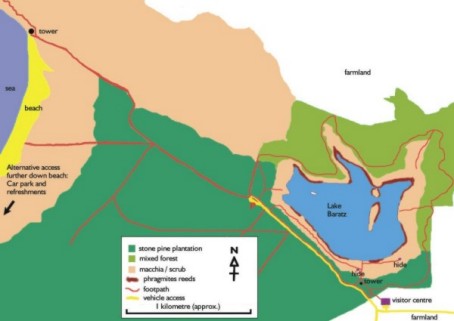 Getting to Lake Baratz
If you're travelling by car, it's fairly well signposted. From Alghero, take the road north (signposted Porto Torres), after about 10-15km, turn left towards Santa Maria la Palma. There is a set of traffic lights just before you get to Santa Maria la Palma. Go straight on here, take the next right and the 3rd left and continue to the visitor centre. From Sassari, follow the main road towards Alghero (291), but don't turn left at the roundabout near the airport, go straight on towards Santa Maria la Palma and follow the directions as from Alghero.
If you're taking public transport, there is a bus that goes from Alghero to Sassari (about once every 1.5 hours) via Fertilia (not the one that goes via Olmedo). Get off at Santa Maria la Palma, and then you've got a good 5km walk to the lake. You'll need a fairly detailed map, or a printout from Google Earth to find your way there, although basically you follow the road west out of the village, continue to the main road running north. Follow it north for nearly 2km, then there is a signpost to turn left towards the lake.

Lake Baratz from the west
There is a good website for the lake, with complete lists of breeding and non-breeding species (in Italian). Use the link below:
Resident Species
There is a small population of Purple Swamp Hen resident at the lake. Little Grebe, Coot, Mallard and Moorhen constitute the majority of the waterbirds. More notable are Raven, Serin, Jay, Cirl Bunting (best on the fields near the lake), Woodlark (best on Macchia near plantation), Dartford, Cetti's and Sardinian Warblers(for Marmora's Warbler head up into the hills to the north west), Spotless Starling (by houses near visitor centre) and Great Spotted Woodpecker in abundance. Raptors include Buzzard, Peregrine Falcon, Kestrel, Sparrowhawk and Marsh Harrier. Ospreys can be seen in spring and autumn on passage.
Spring and Autumn
The Lake is very good for duck species, with small numbers of Ferruginous Duck and Red-crested Pochard every autumn. Other ducks include Garganey, Wigeon, Gadwall and Pochard. Smaller passage migrants that I've recorded include Wheatear, Pied Flycatcher, Whinchat and Sand Martin. Passage waders include Wood Sandpiper, Greenshank, Little Stint, Common Sandpiper and Black-winged Stilt. Osprey and Glossy Ibis are both possible but infrequent.
Summer
Garganey, Hoopoe, Great Reed Warbler, Purple Heron, Little Bittern, Zitting Cisticola, Alpine Swift, Nightingale and Turtle Dove. Occasionally Hobby.
Winter
Black-necked Grebe are frequent after the end of the hunting season (in early February). Grey Heron, Chiff Chaff, Meadow Pipit and Black Redstart. Wintering ducks include Shoveler, Gadwall, Wigeon and Pintail.